Front Month
CTH23
Let's have a closer look into March'23 cover month
Conclusion of latest market report:
The cotton market has found resistance just under 90c/lb basis H23. We maintain that for H23 we see prices in the high 80's as fully valued and, for now, see any move for this contract into the low 90's as a selling opportunity. The market remains plagued by a lack of demand though pockets of improvement are to be found in certain parts of the world. A tightening of supply, notably in India, prompts us to raise our downside ideas to the mid to high 70s.
CFTC Cotton On Call (Z, H, K, N only)
CFTC - Commitment of Traders
In this study, we are comparing the progress of implied volatility of current season against 2011/12 season. Always looking at the futures contract with highest open interest. 
Historical
CTH23
Let's have a look at historical data for the March cover month, looking from start of November until end of January. This is the period where open interest is highest in March, therefore it is the front month. 
Average price of CTH for the past 50 years, looking from November to end of January. 
In the past 50 years of data, highs in CTH have occurred 28 times in January. 
We have also seen CTH hit its lowest price in the month of November.
Average price of CTH for the past 50 years
Average price of Cotton per decade
Cotton's
Big Brothers
Weekly reports on performance of Soybeans & Corn
Conclusion of latest report
This bounce is likely to encounter overhead resistance fairly soon which we expect to be followed by a downward move. With Chinese lockdowns not showing any signs of slowing down as rumours suggested, despite some slight easing of rules and Brazil still looking set for a record crop we are bearish this market.
The January contract traded in a range of 58 and closed the week down 21.6 cents. As expected the market encountered overhead resistance from that downward trend line and broke through the 200 day MA and 50% retrace level. It continued to the downside on Thursday before bouncing off the 38.2% retrace. Going forward we see see the formation of the contracting triangle leading to a decisive move in the next week or so and we expect it to be to the downside with support seen at the 23.6% retrace level seen on the chart above.
Conclusion of latest report
the weather premium for U.S. market is firmly in place as yields may be reduced further due to persisting droughts. We may see more downgrades and reductions in both the U.S., China and Europe if the adverse weather continues. The funds have really axed their long position which could be the catalyst to move this market lower. The extension of the Black Sea grain initiative is not supporting the bulls as export flows look to be sturdy. A decisive move above key resistance levels and contracting triangle is needed to bolster this bullish tone.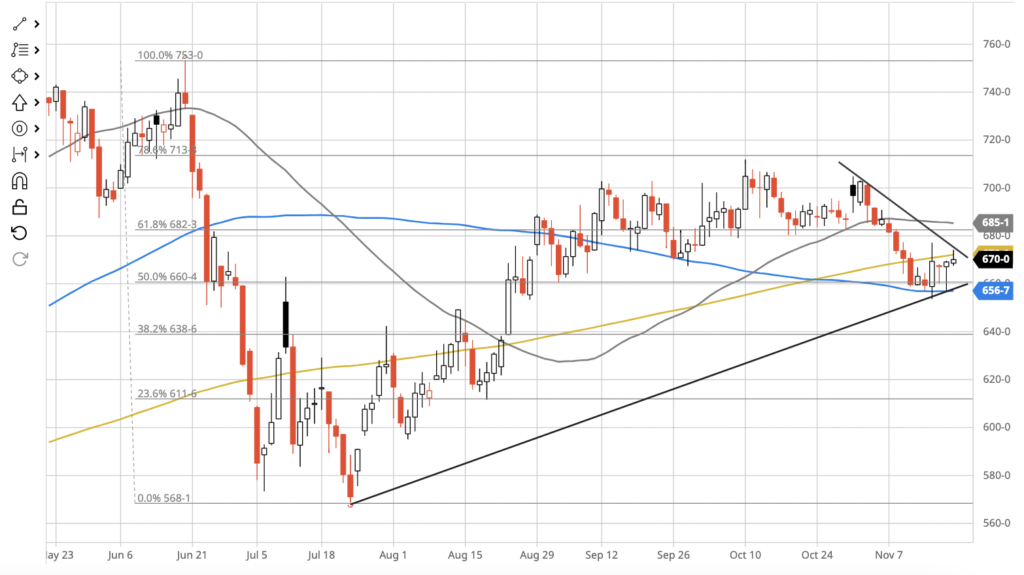 March Corn'22 (ZCH23) – March Corn futures find support at the 50 day moving average around 566.00 basis ZCH23. The effective front month traded within a 23.60 cent range between 653.40 and 677.00. A narrow trading range as the market bounces between the 50 % 61.8% Fibonacci retracement levels (660.40 and 682.30 respectively). 
Brazil
News
Domestic prices, weekly news and special reports about the world's second largest exporter of Cotton
Domestic prices of cotton in Brazil remained practically stable, with a slightly increase sustained by the appreciation of the dollar. Demand was weakened due to collective holidays. Buyers only purchasing enough quantities to meet their immediate cover. According to a survey conducted by Conab field team, weather conditions are favourable to the development of the crop throughout the country, with 28.8% of the 22/23 crop planted. The only concern is excessive humidity is worrying producers in Minas Gerais. 
Data released by Ministry of Economy indicates that, in the month of December 2022, Brazil exported 175.7 thousand tons of cotton at an average price of US$ 1,898.30/t. Compared to December 2021, when Brazil exported 270.5 thousand tons at an average price of US$1,802.00/t. This accounts for almost 95 thousand tons less, but average price per ton was 5.3% higher. You can see the 5-year export sales chart below. For the first five days of January 2023, MDIC (Ministry of Development, Industry and Commerce) indicates that Brazil exported 42,700 tons of cotton, with an average price of US$1,880.0o/t, a value that is 1.52% lower compared to January 2022 when the average price was US$1,909.10/t. 
Source: Conab 
Cotton CEPEA/ ESALQ - 8 days credit
Price is based ex warehouse in São Paulo 
Source: CEPEA 
NY CTH23 vs. CEPEA/ ESALQ - 8 days
wpDataChart with provided ID not found!
Brazilian Monthly Export Sales Report